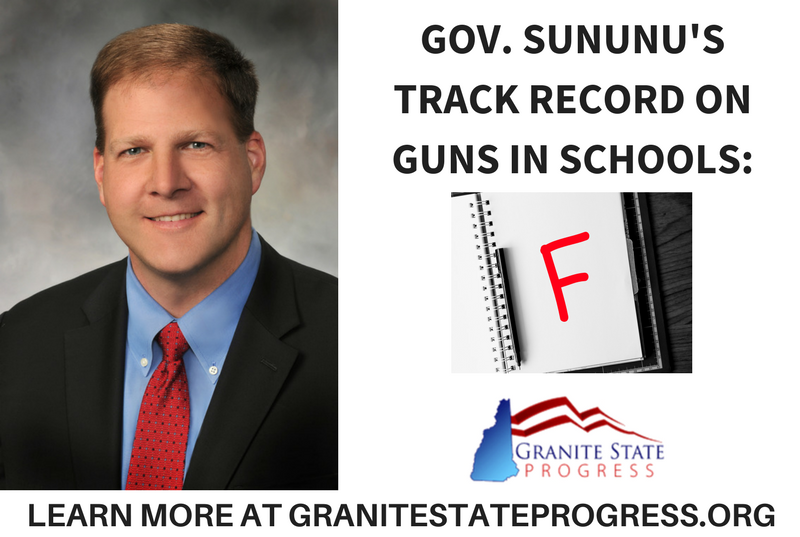 Vermont Governor Phil Scott announces support for a package of gun reform laws; says Governor, legislature have 'tremendous responsibility' to act
Concord, NH – Yesterday in New Hampshire, Governor Chris Sununu joined NHPR The Exchange where he doubled down on opposition to common sense gun reforms, including keeping firearms off our college campuses and out of our elementary and high schools, and preventing assault weapons and bump stocks from proliferating our streets.
Next door in Vermont at the same time, Governor Phil Scott, also a Republican, held a press conference announcing a package of gun reform laws, saying the Governor and legislature have a 'tremendous responsibility' to act.
Statement from Zandra Rice Hawkins, executive director of Granite State Progress: "The very first bill Governor Sununu ever signed into law allows dangerous individuals to bring guns into our elementary schools, and time and again he has opposed allowing schools to enforce gun free zones. He has show great disregard for facts when it comes to gun violence prevention, instead spewing gun lobby talking points. It is time for all politicians, from Governor Sununu to our state senators and representatives, to safeguard our children from gun violence. This includes closing the background checks loophole and creating safe spaces for our children to learn and grow. States absolutely have a responsibility to act, and Governor Sununu needs to stop shirking his responsibilities."
Statement from New Hampshire resident Clai Lasher-Sommers, Executive Director of GunSenseVT and a survivor of gun violence: "Governor Scott has shown leadership and great care in agreeing to sign gun safety bills in the state of Vermont.  He is a gun owner and hunter who has declared that Vermont children should be safe at school, and he does not believe that teachers should be armed.  The Vermont state senate leadership, especially Senator Dick Sears, have stayed true to the idea that we need to be safe from gun violence."
More Background:
NBC 5: Governor proposes sweeping changes to Vermont gun laws
In remarkable policy shift, Republican Gov. Phil Scott announces support for a suite of gun reform laws and said the legislature has a 'tremendous responsibility' to act, despite strong opposition from second amendment groups.
http://www.mynbc5.com/article/governor-proposes-sweeping-changes-to-vermont-gun-laws/18661111
NHPR The Exchange: Governor Sununu (minutes 1:20 to 18:30)
Governor Sununu shirks responsibility for preventing gun violence and opposes popular common sense reforms. Sununu doubles down on allowing campus carry, which was rejected later in the day by the New Hampshire House (minute 17:30), and on keeping firearms out of our elementary and high schools. Sununu also scapegoats the mental health community but opposes strengthening prevention and supports.
http://nhpr.org/post/governor-sununu-takes-stock-his-first-year-office-and-takes-your-questions
Concord Monitor: Sununu says feds should be the ones setting gun policy
http://www.concordmonitor.com/Sununu-says-NH-has-good-gun-laws-15747439
State of the State: Governor Sununu's Track Record on Guns in Schools
https://granitestateprogress.org/2018/02/15/state-of-the-state-governor-sununus-track-record-on-guns-in-schools/
###
Granite State Progress is a progressive advocacy organization that addresses issues of immediate state and local concern. Granite State Progress works as a communications hub for the progressive community to provide a strong, credible voice in advancing progressive solutions to critical community problems.