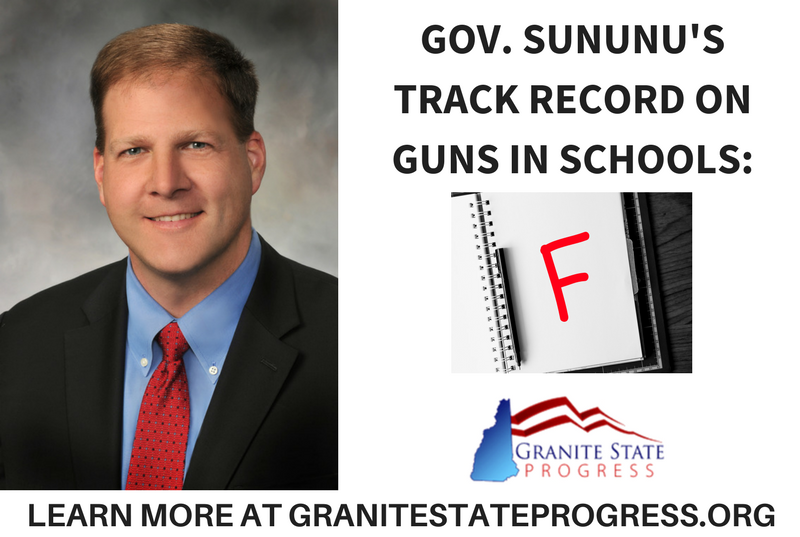 The first bill Governor Sununu ever signed into law allows dangerous individuals to bring guns into our schools; as recently as last week he refused to support protections for our children
Concord, NH – During Governor Chris Sununu's State of the State address today, the Governor addressed the latest school shooting and spoke about making improvements to school security in New Hampshire. Granite State Progress issues the following statement on Governor Sununu's track record on guns:
"The first bill Governor Sununu ever signed into law allows dangerous individuals to bring guns into our elementary schools, and as recently as last week he opposed allowing schools to establish gun free zones. Governor Sununu has done nothing to safeguard against gun violence and protect our children, instead he has worked to weaken our public safety laws," said Zandra Rice Hawkins, executive director of Granite State Progress which monitors firearms related public policy in the state.
Governor Sununu signed SB 12 into law in February of 2017, making concealed carry licenses voluntary in New Hampshire and removing "suitable person" criteria for licensing even though the NH Chiefs of Police Association testified it was critical for keeping concealed firearms out of the hands of those with a track record of violence. In signing the bill, Governor Sununu also lowered the standard for who can legally carry a firearm into schools, as adults are allowed to carry guns into grade schools in New Hampshire as long as they are not a prohibited person and have the voluntary concealed carry license issued by the state.
Meanwhile, a state law prevents local school districts from establishing gun free zones. The Valley News reported last week: "New Hampshire Gov. Chris Sununu on Thursday reiterated his support of a state law that prohibits towns and schools from banning adults with guns from public property, though local officials have raised concerns about student safety." The article also quoted the Governor saying, "Look, I think the laws we have on firearms in the state are pretty darn good and I'm not looking for any additional restrictions at this time."
Governor Sununu refused to help pass a ban on bump stocks, like the one used in the Las Vegas shooting. New Hampshire currently has major gaps in our background checks system as well; on the campaign trail Governor Sununu supported closing them before flip-flopping once elected.
###
Granite State Progress is a progressive advocacy organization that addresses issues of immediate state and local concern. Granite State Progress works as a communications hub for the progressive community to provide a strong, credible voice in advancing progressive solutions to critical community problems.