Politics in the 603
As always, check out the new or curated content from our friends over at Susan the Bruce, Miscellany Blue, and NH Labor News.
Abusive transphobic bill going into executive session next week
February 12, 2021
House Bill 68 would redefine child abuse to include the affirmation of trans childrens' identities, showing a complete and utter lack of understanding of the nature of dysphoria. If this bill were to pass, it would codify transphobic parental neglect into law as the preferred measure. Accepting parents who want to do right by their children would be punished legally for following the advice of medical professionals and decades of psychological research. Unfortunately, this denial of both trans identity and scientific consensus is nothing new for the GOP.
This extreme and harmful bill's executive session will be held on February 18th at 1:15pm. Please sign in opposition on the General Court's website.
Union-busting bill passes Senate
February 11, 2021
Senate Bill 61, a bill designed to undermine worker unions and collective bargaining, passed in the NH Senate today. It now moves onto the House floor; if it succeeds there, Governor Chris Sununu is expected to sign it into law.
Federal law already makes it illegal to force somebody to join a union; these bills are transparent in their effort to devastate workers' rights and further tilt the balance of power in the favor of large corporations. States that enact Right to Work laws see a decrease in average wages and the power of labor unions to lobby for better working conditions. Right to work is wrong for New Hampshire.
Endorsement: Gun Violence Prevention Research Act
February 5th, 2021
Representative Sean Maloney and Senator Ed Markey have reintroduced the Gun Violence Prevention Research Act in the wake of 2020's surge of gun sales and deaths. Granite State Progress and our Gun Sense NH campaign are proud to officially endorse this bill. View Representative Maloney's press release on the matter here.
NH House Republicans support lawsuit to take away people's health care
February 2, 2021
In the midst of a global pandemic and widespread unemployment, House Republicans decided to delay voting on a bill to repeal NH's Medicaid expansion work requirements, arguing we should "let the dust settle" in the ongoing court case over whether the requirement is even legal instead of listen to the concerns of health care advocates.
HB 185 seeks to remove the damaging work requirement from New Hampshire's Medicaid expansion program – a reasonable move considering a federal judge has already struck it down. New Hampshire has already spent more than $4 million in state and federal money to try to implement this policy, and continues to support an appeal in the courts to enforce it.
New Hampshire recently passed over 1,000 deaths due to Covid-19. People need healthcare, but Medicaid expansion work requirements set up more barriers. Work requirements in other states have caused tens of thousands of low-income individuals to lose their health coverage, including those who qualified but had difficulty overcoming the bureaucratic obstacles to prove that they meet the requirements or qualify for limited exemptions. Overall, work requirements are incredibly self-defeating: taking away people's health coverage often makes it harder for them to find or keep a job. It's time to stop wasting our taxpayer dollars on trying to take away health care from those who most need it, and instead invest in ways to ensure every Granite Stater has quality, affordable health coverage.
Deadly, racist Kill At Will bills to be heard on Friday, February 5th — on what should be Trayvon Martin's 26th birthday
February 1, 2021
New Hampshire already has a deadly Stand Your Ground law, but now Republican legislators are hoping to expand this dangerous, racist policy even further — and they scheduled the public hearings on what should be Trayvon Martin's 26th birthday.
On Friday, February 5th, the House Criminal Justice and Public Safety Committee will hear testimony on HB 197, which would loosen limits on where and when deadly force is permitted, and could even be used to justify shooting at unarmed protestors; HB 145, which would allow the use of deadly force even in the scarce situations where it isn't permitted under current law, including in situations where deescalation or walking away is possible or where the shooter initiated the conflict; and HB 81, which is a bill that would expand the legal permissibility of deadly force even in non-life threatening situations.
These laws embolden dangerous and reckless gun owners to shoot first and ask questions later. Claiming self-defense to avoid culpability for murder would become scarily simple if these bills pass. If you can help testify or sign in opposition to these bills, visit GunSense NH, a project of Granite State Progress for more details about the hearings and how to take action.
Check your vaccine eligibility!
February 1, 2021
As February starts up in full swing, be sure to remain aware of the Covid-19 vaccine rollout and where you fall in terms of phases. Protect public health and sign up for your vaccination as soon as possible! WMUR has released a helpful guide detailing the current situation, and you can find the official NH vaccine portal here.
Happy Black History Month!
February 1, 2021
Honor the month with reflection and activism. Here are a few ways to take action in New Hampshire.
January State House Recap
January 31, 2021
As the session began, House Republicans blocked an amendment to House Rule 67 that would have allowed representatives to meet remotely, endangering their colleagues and the people of New Hampshire.
In a disturbing show of complicity with extremism, 33 House Republicans refused to condemn the violent insurrection in our nation's Capitol on January 6th.
At the very same time the United States Capitol was under attack, the NH House Republicans voted to allow deadly weapons and alcohol into the House chamber, and to take no action on the House members who had posted antisemitic and racist material or those who had engaged in sedition by signing a petition rejecting the 2020 election results and declaring the State of New Hampshire terminated.
In addition, House Speaker Sherm Packard (R) disregarded both house rules and basic math in order to disenfranchise Democrats in the House Finance Committee.
Following her controversy at the end of 2020, Dawn Johnson (R) made headlines once again for parroting Proud Boys rhetoric on Parler.
The Senate Republicans placed the housing crisis under the banner of "Keep NH Streets and Homes Safe" in their action agenda for 2021, demonstrating their lack of empathy for unhoused community members.
Representative Sherry Frost (D) was accused of "doxxing" her 33 Republican peers who refused to condemn the violent insurrection in the Capitol for holding them accountable and pointing constituents to the General Court website. The state police have reportedly been warned of the "danger" this act of public accountability poses; however, the 33 State Reps condoning the violence in DC have yet to be reported.
Many Representatives received a threatening letter implying that they would be sentenced to death for depriving citizens of rights, and that New Hampshire will be seceding from the nation.
State Rep. Al Baldasaro (R-Londonderry) walked into the statehouse to lead a committee hearing a mere day after returning from Florida — maskless. When forced to put on a mask to comply with regulations, he said: "Let me make them happy and play the game here". New Hampshire surpassed 1,000 COVID-19 deaths this week; the callousness of referring to public health as a "game" speaks volumes.
How to testify at NH State House customizable graphics
January 30, 2021
As everyone learns the ropes of remote advocacy, here are a few Canva template designs about how to sign in or testify thanks to our friends at Kent Street Coalition. Grassroots groups and others are welcome to use these templates to create your own branded materials for action alerts.
How to log into the General Court
State electeds to take No Racist Granite State Pledge
January 27, 2021
In response to our state's failure to denounce white supremacy, NH Youth Movement, Black Lives Matter, AFSC-New Hampshire, Kent Street Coalition, and others launched the No Racist Granite State Pledge. The pledge is intended to hold elected officials accountable for committing to using all available resources to stop white supremacist violence in our state. This includes supporting legislation that works to address these issues and opposing legislation that will cause further harm.
Organizers are asking community members to contact your elected officials and ask them to sign the No Racist Granite State Pledge: "I pledge to stand against racism, xenophobia, islamophobia, and anti-semitism in our state. I will hold myself and my colleagues accountable when we make mistakes or perpetuate white supremacy through our work or our words. Racist, anti-Semitic, islamophobic, and xenophobic actions and words have no place in our public or private forums, and I commit to using all available resources to stop white supremacist violence in our state. This includes supporting legislation that works to address these issues and opposing legislation that will cause further harm. I believe it is lawful and moral to expel any colleague or subordinate who participates, shows support for, or allows violence of that nature to happen without intervention."
MacDonald confirmed as Chief Justice of the New Hampshire Supreme Court in 4-1 vote
January 22, 2021
Gordon MacDonald was confirmed as Chief Justice on January 22nd, 2021, despite having no prior bench experience. The seat was held empty for an incredible 18 months after Governor Chris Sununu refused to nominate anybody else in retribution for MacDonald being shot down by the previous Executive Council. That decision left the court with only four active members for more than a year.
MacDonald has a history of working for Republican politicians and conservative organizations, which raises considerable concerns about his ability to remain nonpartisan when serving on the Court. His record as Attorney General is laden with examples of defending laws that tighten voting restrictions, allowing private religious schools to receive public funding, and various other questionable legal decisions. His anti-abortion work in the past and continued opposition to reproductive health makes it clear that MacDonald could be a threat to reproductive rights in New Hampshire if Roe v. Wade is overturned nationally.
Woo hoo! It's official — the Biden Administration is in charge
January 21, 2021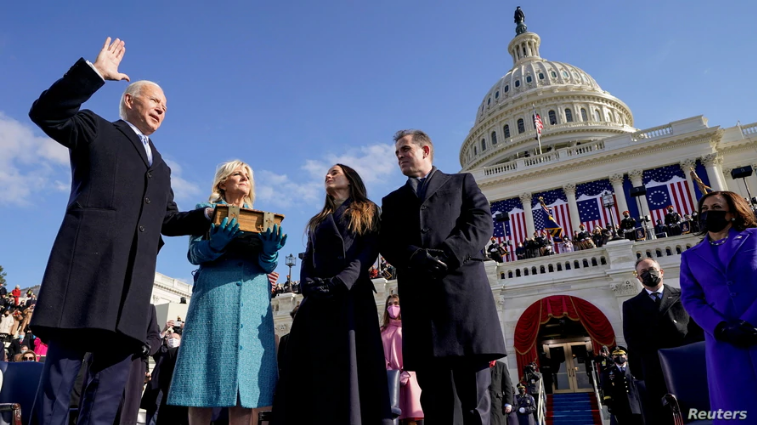 No Trump pardon for convicted NH militia member Jerry DeLemus
January 20, 2021
Convicted militia member and Trump for President Veterans Coalition co-chair was not on the list for a last minute pardon by Trump. DeLemus was convicted for his role in the armed standoff at the Bundy ranch in Nevada. Thatc onviction has not kept Trump or #ComplicitChris Sununu from working with the DeLemuses and friends.
Sununu compares racial justice movement for Black Lives Matter to violent DC insurrection, calls both forms of "extremism"
January 19, 2021
On January 15th, just days before Martin Luther King, Jr. Day, Governor Chris Sununu referred to Black Lives Matter protests as "extreme", "inappropriate", "appalling", and "not acceptable" and likened them to the attempted coup at the Capitol on January 6th. Any sort of rhetoric that compares the two movements in this sort of way needs to be critically examined and challenged; fighting for human rights and attempting to overthrow democracy have never been and will never be equally as extreme. More in Granite State Progress' press release.
Democratic State Representative stripped of committee position for rightly calling out police chief participating in DC rally; meanwhile, secessionists and racists remain
January 16, 2021
NH Republican Speaker Sherm Packard has stripped Democratic State Representative Rosemarie Rung of her committee position for denouncing Troy Police Chief David Ellis participation in a rally to overturn American election results — an event that directly contributed to the attempted coup at the Capitol on January 6th.
Meanwhile, six Republican State Representatives who called the 2020 election results – the same one they were elected in – null and void and belief the State of New Hampshire is now terminated, continue to hold elected office and committee seats. As do two Republican State Representatives who posted racist, anti-Semitic material. All of which begs the question: why was Representative Rosemarie Rung singled out for exercising her first amendment rights while these extremists continue to have powerful committee assignments?
Once-rejected Chief Justice nominee Gordon MacDonald to be voted on again
January 15, 2021
The Executive Council will hold a public hearing on the nomination of Attorney General Gordon MacDonald for NH Supreme Court Chief Justice on Thursday, January 21st at 10:00 am. Governor Chris Sununu held this seat open for 18 months in order to put MacDonald at the head of our courts, after the previous Executive Council voted him down.
MacDonald should not be the next NH Supreme Court Chief Justice. MacDonald has never served on the bench but he has a long history on the Board of Koch-funded conservative groups and working on the wrong side of issues the court may very well take up in the near future (reproductive rights, education funding, health care, energy & environment). Learn more here and take action today.
Ski Patrol gets vaccine ahead of educators in New Hampshire
InDepthNH: NEA-NH is calling on Gov. Chris Sununu to explain why ski patrol staff are being prioritized for the Phase 1a allocation of the COVID vaccine ahead of New Hampshire educators. According to the NH Region Ski Patrol, ski patrol staff can receive the COVID vaccine during Phase 1a, ahead of educators who are slated to receive the vaccine in Phase 2, or by March.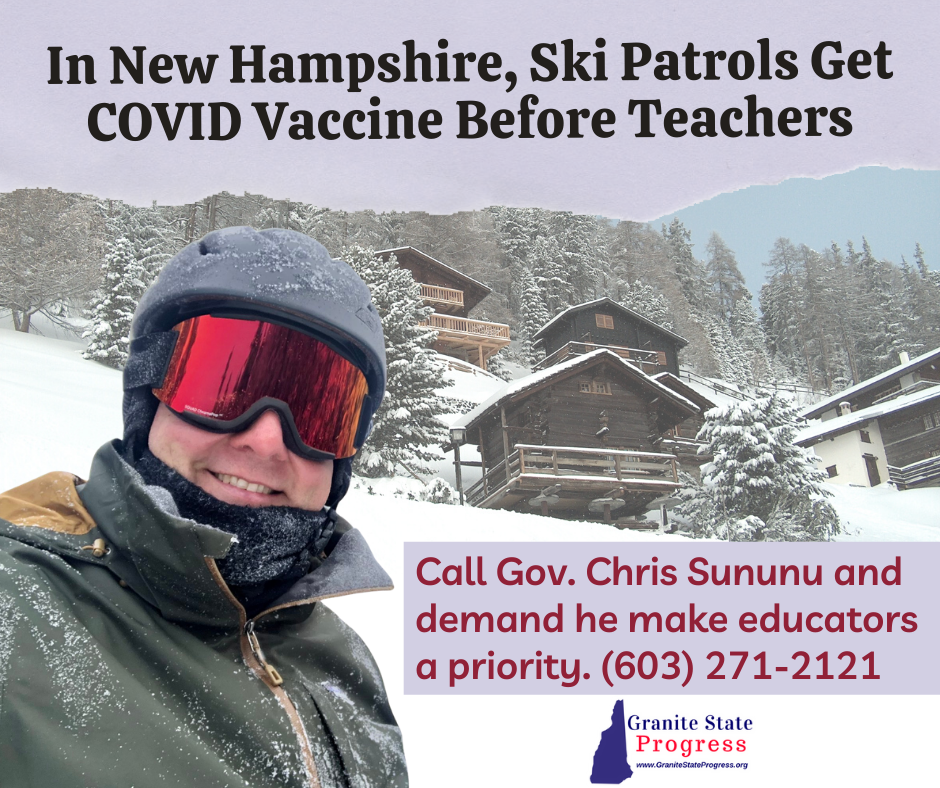 #ComplicitChris Sununu's long history of coddling white nationalism, violent rhetoric, and extremist movements
January 9, 2021
Granite State Progress releases the #ComplicitChris Sununu microsite and social media platforms detailing all of the ways that Governor Chris Sununu has coddled white nationalism, violent rhetoric, and extremist movements over the years. A chilling and timely read. More here: https://complicitchrissununu.com
Governor Chris Sununu questions election integrity of other states during inaugural speech
One day after insurgents stormed the nation's capitol in an attempted coup, Republican Governor Chris Sununu questioned the election integrity of other states during his inaugural speech and downplayed the responsibility of those rioting in DC.
New Executive Council convenes
January 7, 2021
The new Executive Council met for the first time, where two main issues came to the forefront – the renomination of current Attorney General Gordon MacDonald for NH Supreme Court Chief Justice, and the first installment of a $46 million dollar federal grant to expand charter schools in New Hampshire.
Councilor Cinde Warmington, the only Democrat on the Council and less than a week into the job, had this to say: "I am concerned that these funds, to be used to expand and build dozens of new charter schools in New Hampshire, undermine our public schools that are already struggling and financially strapped. This grant does not support our students or teachers in existing public neighborhood and charter schools, but puts an even heavier burden on local property taxpayers who do not have a say in the state approval of these schools."
The moves were more notable as the first Council meeting is usually a ceremonial, non-controversial convening; but Governor Chris Sununu is signaling heavy that he's ready to steamroll anyone and anything with three branches of government in the Republican column and his US Senate campaign launch in the wings.
These 33 NH Republican State Reps wouldn't condemn an attempted violent coup of our nation
January 6, 2021
Following the January 6th insurrection at the nation's Capitol, 33 New Hampshire House Republicans voted against a resolution to condemn the violence, showcasing a dangerous complicity with right-wing extremism. These 33 include:
Glen Aldrich of Belknap 2
James Allard of Merrimack 21
Aidan Ankarberg of Strafford 10
Harry Bean of Belknap 2
Melissa Blasek of Hillsborough 21
Barbara Comtois of Belknap 7
William Foster of Hillsborough 5
Fenton Groen of Strafford 23
Deborah Hobson of Rockingham 35
Gary Hopper of Hillsborough 2
Gregg Hough of Belknap 3
Mac Kittredge of Strafford 12
Melissa Litchfield of Rockingham 11
Dick Marston of Hillsborough 19
Mark McConkey of Carroll 3
Bill Nelson of Carroll 5
Jeanine Notter of Hillsborough 21
Russell Ober of Hillsborough 37
Tom Ploszaj of Belknap 1
Kevin Pratt of Rockingham 3
James Qualey of Chesire 11
Skip Rollins of Sullivan 6
Terry Roy of Rockingham 32
Matthew Santonastaso of Chesire 14
Norman Silber of Belknap 2
Denise Smith of Hillsborough 37
Michael Sylvia of Belknap 6
Dave Testerman of Merrimack 2
Scott Wallace of Rockingham 12
Mark Warden of Hillsborough 15
David Welch of Rockingham 13
Natalie Wells of Merrimack 25
Kenneth Weyler of Rockingham 13
The refusal to denounce such an obvious attempt to subvert democracy speaks volumes about the nature of these representatives' true intentions. As the session starts up in full swing, stay up-to-date with how your representatives are voting — and if they are properly representing the interests of their constituents — by checking out Granite State Progress' State House vote records.
State Rep. Anne Copp refuses to get sworn in unless she can possibly infect someone with COVID-19
January 4, 2021
As the New Hampshire 2021 legislative session prepares to start in full swing, Rep-Elect Anne Copp (R-Derry) of COVID denial hall of fame has yet to be seated. Copp refused to participate in a virtual swearing-in ceremony. Her Derry constituents are out of luck for her representation until then, although it probably won't be missed much — Copp is one of (6) Republican State Reps who claim the election, and the State of New Hampshire, is void and declared independence from it.