Hillsborough County District 36 | Brookline, Greenville, and Mason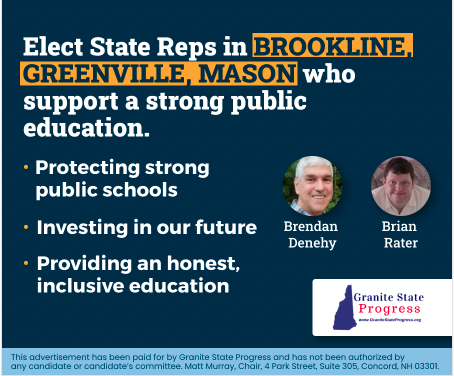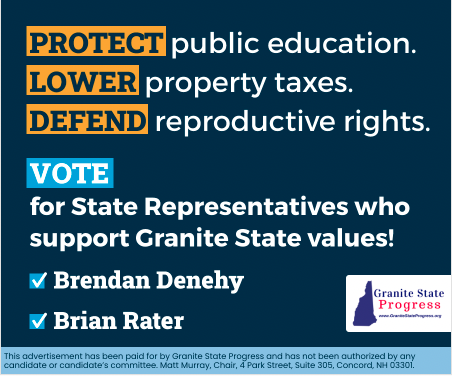 On November 8th, it's important for voters to elect pro-public education candidates who believe in protecting strong public schools, support investing in our future, and advocate for providing an honest and inclusive education for our kids.
Brendon Denehy and Brian Rater support these policies because they knows how important strong public schools are to our state's future.
They also knows how important it is to defend our public schools against legislation that would cut public school funding, leading to higher property taxes for us all.
On November 8th, say no to radical right legislators and Free State Project members who want defund our public schools, and give tax breaks to out-of-state corporations.
Vote for Brendon Denehy and Brian Rater for your Hillsborough County District 36 State Representatives to keep NH moving forward!
Click here visit the NH Secretary of State's Office Website to find your town's polling location and polling hours.
This advertisement has been paid for by Granite State Progress and has not been authorized by any candidate or candidate's committee. Treasurer to Matt Murray, Chair, 4 Park Street, Suite 305, Concord, NH 03301.
To learn more about public education on the ballot this November, click here.