GSP In the News
Excerpts from our recent media appearances or events.
Nashua Telegraph, 1.3.19: "This vote is a step in the right direction," Zandra Rice Hawkins, executive director of Granite State Progress and convener of the New Hampshire Gun Violence Prevention Coalition, said after the Wednesday vote. "Now the Legislature needs to pass a package of common sense gun violence prevention laws, including closing background check loopholes, creating a waiting period between the purchase and delivery of a firearm, keeping guns out of our elementary, middle, and high schools, and passing the popular bipartisan extreme risk protection order which is improving public safety in states across the nation."
ReWire, Republicans Lost Their State-Level Death Grip Last Night, 11.7.18: "State senate Democrats campaigned on increasing the minimum wage, investing in public and higher education, and creating a paid family and medical leave insurance program. These could be top priorities for Democrats, Zandra Rice Hawkins, executive director of the Granite State Progress Education Fund, told Rewire.News. Sununu, meanwhile, is fiercely opposed to paid family leave benefits. Health care in New Hampshire is a looming concern. "In the coming legislative session the senate will need to address how New Hampshire structures newly authorized association health plans, which many health care advocates worry will not include the same consumer protections established in the Affordable Care Act," she said, referring to the Trump administration's "junk" health-care plans that that offer little coverage and have drawn support from congressional Republicans.

WMUR, NH Primary Source Liberal group files campaign finance complaint against Sununu, 11.1.18: "Granite State Progress, a liberal activist group, filed a complaint with the Attorney General's Office on Thursday charging that Gov. Chris Sununu's campaign accepted nearly $18,250 in three illegal campaign contributions from partnerships. The group said in its complaint that three contributions to Sununu in 2017 violated a state law that includes contributions by partnerships in a list of prohibited contributions, along with labor unions. The group also said Sununu's campaign violated the law by accepting the contributions … Granite State Progress Executive Director Zandra Rice Hawkins said, "Sununu broke the law. The Sununu campaign accepted a donation that is illegal. "It's the responsibility of the campaign to review their contributions and ensure that they are legal. Past enforcement actions around contributions have held candidate campaigns accountable. The contribution can only be made if the Sununu campaign accepts it," Rice Hawkins said."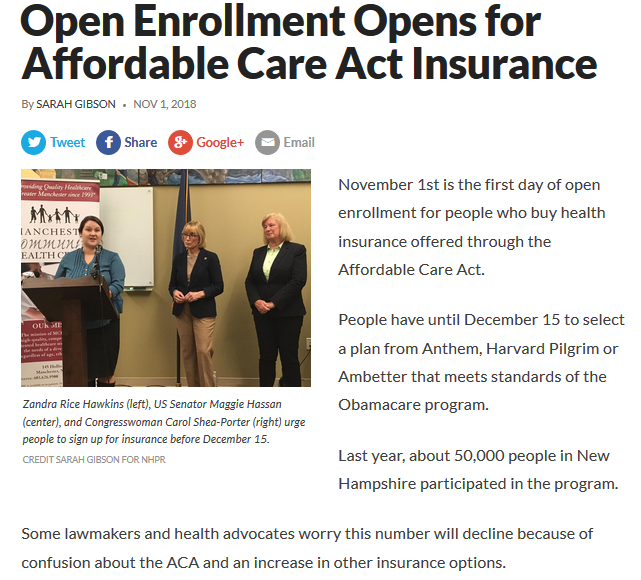 NHPR, Open enrollment opens affordable care act insurance, 11.1.18:
Zandra Rice Hawkins of Granite State Progress said ACA plans aren't neccessarily more expensive. "There is a lot of financial assistance available through the Affordable Care Act and the marketplace plans, so people should not discount themselves before they've actually gone through the application to see what they might qualify for."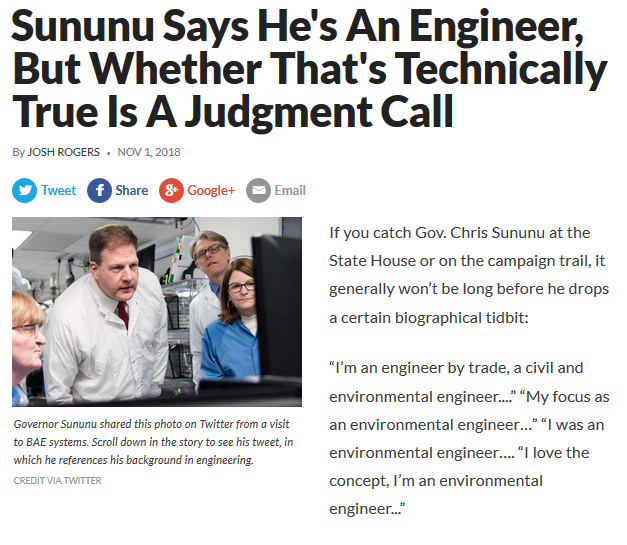 NHPR, Sununu Says He's An Engineer, But Whether That's Technically True Is A Judgement Call, 11.1.18
Union Leader, LTE Hiding true colors?, 10.27.18: To the Editor: About a month ago, a letter writer to the Union Leader lamented that, as far as the Union Leader was concerned, there are only two parties for voters to consider. I don't necessarily disagree, but I do wonder if some of that is because the candidates themselves are not always upfront about their affiliation. Take, for example, Dan Hynes, who is running for the state Senate seat from Bedford. Mr. Hynes is running as a Republican, but he is really associated with the Free State Project (FSP), whose members were recruited to "make the state a stronghold for libertarian ideas." Granite State Progress researches and publishes a list of FSP members running for office. They note that "Free State Project members often hide their FSP affiliation when running for elected office and sometimes even deny the connection even when it has been well-established." So you don't have to wonder why Mr. Hynes ran for office so soon after moving here; now you know it is the reason he is here in the first place! Sharon Yergeau, Bedford
Valley News, Hennessey Faces Low-Profile Challenger for Upper Valley Senate Seat, 10.14.18: "Lozito, who declined interview requests last week, moved to New Hampshire from Long Island in 2008. He is the husband of Marie Lozito, who ran unsuccessfully on the Republican ticket for the District 5 seat in 2016. The Lozitos have been labeled as supporters of the libertarian Free State Project by Granite State Progress, a liberal advocacy group that published a "Free State Project Watch" list ahead of the 2014 and 2016 elections. As evidence, Granite State Progress cited a 2008 posting by Patrick Lozito, who went by "Pat the Gunsmith" on the Free State Project Forum, announcing the couple had moved to Claremont. "We really feel it is escaping to freedom from an 'occupied' country, i.e. New York," said the post, which ended with "Our best wishes to all! Pat and Marie Lozito." Marie Lozito, who was asked about the post in 2016, said she didn't identify as a libertarian, and argued she planned to move to New Hampshire before the Free State Project was founded. "My husband definitely identified with the Free State Project's plan to create a freedom-minded majority in the state of NH," she wrote at the time in an email to the Valley News."