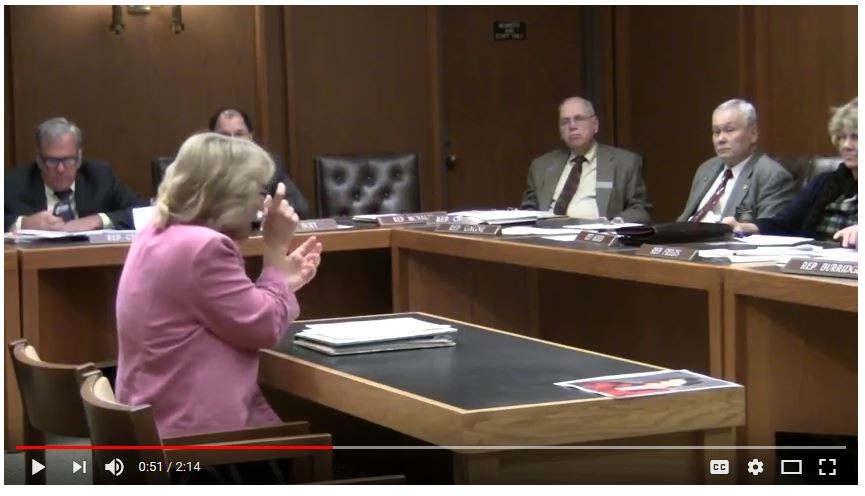 Leading anti-choice politician Jeanine Notter is at it again, this time claiming that she saw kidney bean size fetus "running up the uterine wall, playing" in sonogram; will Governor Sununu and other politicians side with Notter's Notions or women's health?
CONCORD, NH – Granite State Progress is releasing a video of State Representative Jeanine Notter (R-Merrimack) making outrageous claims in committee again, this time seeking to restrict abortion after 8 weeks by claiming she saw a tiny fetus running up a uterine wall in a sonogram. Notter was featured in a previous Granite State Progress video claiming that birth control causes prostate cancer.
Transcript Minute 0:48 as Rep. Notter holds fingers inch apart: "I saw a video of a tiny, tiny, little baby, tiny little baby, running up the uterine wall, playing."
Statement from Granite State Progress Executive Director Zandra Rice Hawkins: "The anti-choice lobby in New Hampshire has introduced numerous bills that seek to block access to contraception and abortion and shame and demean women who seek them. Much like Notter's statements, this legislation is not based in medical science but will restrict women's access to health care. Governor Sununu and state lawmakers have a responsibility to publicly denounce this legislation and make it clear they will not support attacks on women's reproductive rights. Governor Sununu either stands with extreme politicians like Jeanine Notter, or he stands with Granite State women."
Background
The Trump Administration and Congress, along with State Representative Jeanine Notter and others, are targeting access to quality, affordable health care, especially women's health. The Trump Administration recently established a new 'conscience and religious freedom' division at HHS that ABC News reported "will likely pave the way for health care workers to refuse specific types of care, like birth control or abortion, based on their religious or conscience objections."
NH's HB 1787 would also allow health care providers from a physician to a nurse or even pharmacy employee to reject providing women contraception or abortion care. The bill will have a full House vote next week along with HB 1707, mandatory 24-hour waiting period on women seeking abortion services; HB 1721 which would label women seeking an abortion as 'vulnerable' and restrict her access; and HB 1680 which would prohibit abortions after viability – the decision of which would be made solely by the treating physician and without any basis in medical standards.
Rep. Notter is a sponsor of all four bills. Notter's remarks on video were in support of an amendment she was seeking on another bill to establish viability at 8 weeks – a time at which a fetus is still the size of a kidney bean. Also, it's unclear how she had five pregnancies without learning anything about development. More information and a petition to Governor Sununu and state legislators is available at www.GraniteStateProgressEducation.org.
###