NH Senate and House Pass Package of Gun Violence Prevention Bills, Next Stop Governor's Desk
CONCORD, NH – Today the NH Senate and House passed the final piece of legislation in a package of gun safety bills headed for the Governor's desk. HB 109 requires background checks for firearms sales and completely closes the Charleston loophole; HB 514 creates a waiting period between the purchase and delivery of a firearm and guards against impulsive acts of violence, like suicide; and HB 564 clarifies statewide gun free schools.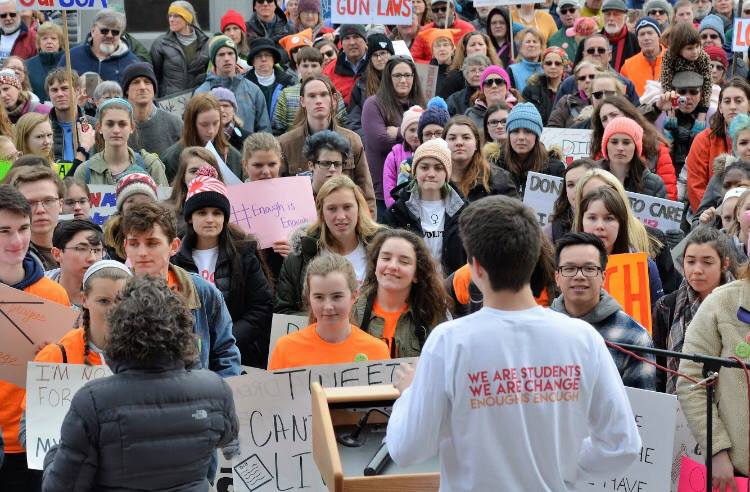 Statement from Zandra Rice Hawkins, director of GunSense NH, a project of Granite State Progress: "We applaud the Senate and House for taking real steps to protect public safety and keep guns out of the hands of felons and domestic abusers. Governor Chris Sununu promised New Hampshire voters that he would support universal background checks, and we urge him to fulfill that campaign promise. Guns do not belong in the hands of felons and domestic abusers, nor do they belong in our schools. The majority of Granite Staters agree with these common sense measures."
Tracy Hahn-Burkett, Convener of the Kent Street Coalition's Working Group on Gun Violence Prevention: "These three bills offer an opportunity to actually do something about the gun violence epidemic. People are tired of seeing blood-soaked massacres on television, appalled that their kids are afraid to go to school, and feel helpless in the face of suicide being the second-leading cause of death for young people in New Hampshire. Background checks, gun-free schools and waiting periods offer real tools for addressing these concerns, and will help keep New Hampshire citizens safe, and we urge Governor Sununu to sign them into law."
This is the first time a package of gun violence prevention bills has advanced to the Governor's desk in New Hampshire. Today's bill passage comes as Giffords Law Center released a new report revealing the cost of gun violence in New Hampshire exceeds $208 million each year.
###
GunSense NH, a project of Granite State Progress, works to protect and advance common sense public safety laws. The program convenes the NH Gun Violence Prevention Coalition, members include gun violence prevention advocates, moms, medical professionals, gun owners, veterans, law enforcement, elected officials, school administrators, educators, students, and faith leaders, and organizations representing various constituencies.