As a Candidate in 2016, Chris Sununu Promised Voters He'd Support Universal Background Checks, Now Threatens to Side With Corporate Gun Lobby Over Granite Staters
Governor Sununu threatens to veto legislation that would keep guns out of the hands of felons and domestic abusers
Concord, NH –At a final debate as a Gubernatorial candidate in 2016, Chris Sununu promised voters he'd support universal background checks and other measures to protect Granite Staters, especially victims of domestic violence, but now Sununu is siding with the corporate gun lobby instead of standing up for common sense public safety measures –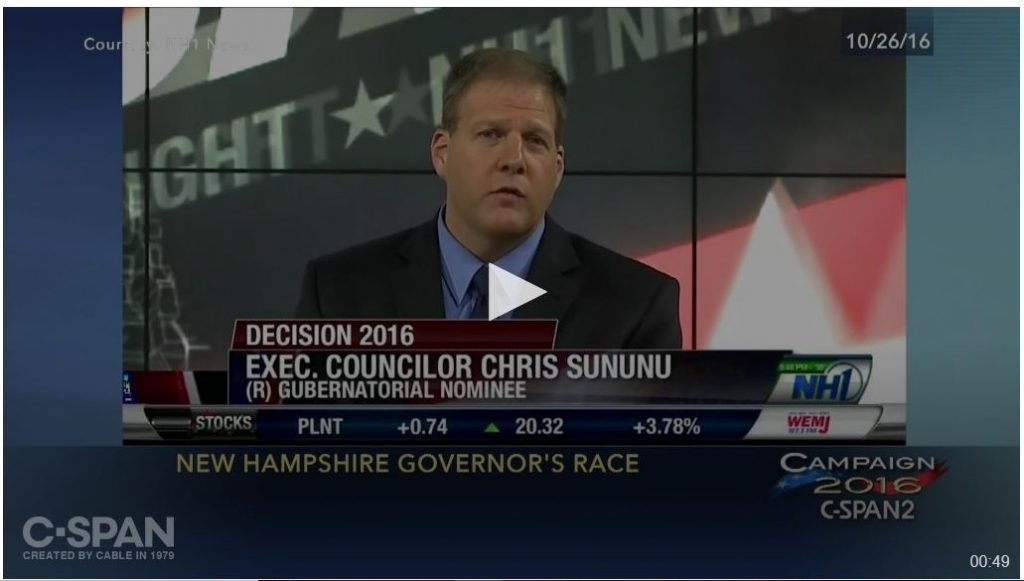 Candidate Chris Sununu, 2016: "I do also support universal background checks, where appropriate. To the point of the question, it's a very important question, when you're dealing with domestic violence issues, we must be standing up. Both at the local level and at the state level to protect those and families who would be held at risk. That's one of the first and foremost responsibilities of government. It's health and safety of individuals. For standing up for them, providing support and making sure they know that we will support them at every turn. So whether it's limiting guns and making sure that those who would commit violence in homes, that we're providing those correct background checks, that we're providing those correct checks and balances – that's important because it's important to families, it's important to the victims." (Video: NH1 Gubernatorial Debate 2016, 10/26/16)
Candidate Chris Sununu, 2016: "I do also support universal background checks, where appropriate. To the point of the question, it's a very important question, when you're dealing with domestic violence issues, we must be standing up. Both at the local level and at the state level to protect those and families who would be held at risk. That's one of the first and foremost responsibilities of government. It's health and safety of individuals. For standing up for them, providing support and making sure they know that we will support them at every turn. So whether it's limiting guns and making sure that those who would commit violence in homes, that we're providing those correct background checks, that we're providing those correct checks and balances – that's important because it's important to families, it's important to the victims." (Video: NH1 Gubernatorial Debate 2016, 10/26/16)
Governor Chris Sununu, 2019: "Governor Chris Sununu has for days warned of plans to veto the state budget if it includes a rollback of business tax cuts that took effect in January. But he says more vetoes are coming on other bills prioritized by Democrats, including plans to raise the state minimum wage, tighten gun laws, and loosen or reverse GOP-backed changes to state voting laws. "Those are just political bills, the ones you just mentioned, and most of those will get vetoed, absolutely. That's just political stuff. I am here to manage the state." (NHPR, 6/24/19)
Statement from Zandra Rice Hawkins, State Director of GunSenseNH, a project of Granite State Progress:
"Chris Sununu is going back on his promise to New Hampshire voters that he would support universal background checks and other common sense public safety measures to keep guns out of the hands of dangerous people, like felons and domestic abusers. In 2016, voters rejected Kelly Ayotte for siding with the gun lobby over the 9 out of 10 Granite Staters who support background checks, and we'll do it again with Sununu. We can't trust Sununu if he makes campaign promises he isn't willing to keep. It's shameful that he is blocking this critical public safety legislation to score points with the corporate gun lobby instead of standing up for the health and safety of his constituents."
###
GunSense NH, a project of Granite State Progress, works to protect and advance common sense public safety laws. The program convenes the NH Gun Violence Prevention Coalition, members include gun violence prevention advocates, moms, medical professionals, gun owners, veterans, law enforcement, elected officials, school administrators, educators, students, and faith leaders, and organizations representing various constituencies.