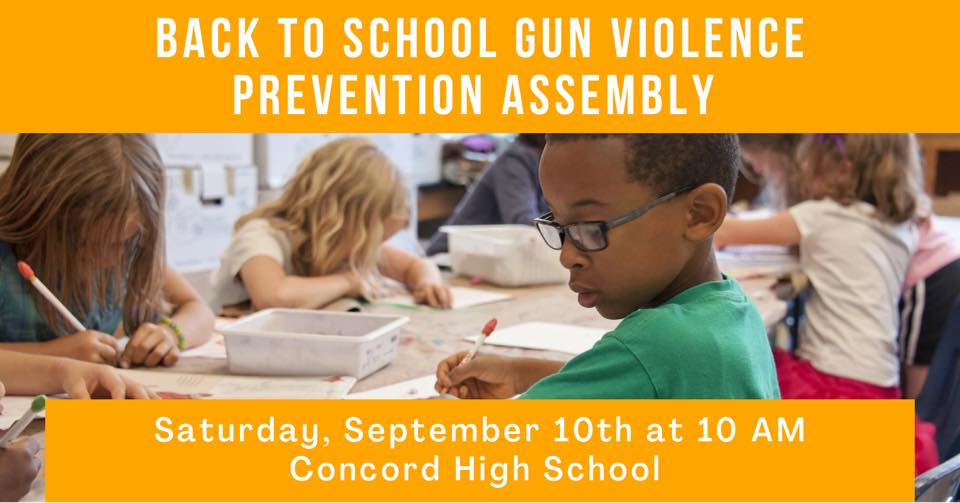 As another school year begins, students, parents, educators, and community members gather to remember victims of gun violence and to work toward safer schools and communities
CONCORD, NH – Students, parents, educators, and community members will gather outside of Concord High School on Saturday, September 10th at 10:00 am to remember the victims and survivors of gun violence and work urgently to prevent future tragedies.
The Back to School Gun Violence Prevention Assembly is hosted by members of the NH Gun Violence Prevention Coalition. The program features speakers and an overview about school safety in New Hampshire right now, including ways to take action to protect our students, educators, and community. The event includes a Be SMART table hosted by Moms Demand Action. The Be SMART framework is designed to help parents and adults normalize conversations about gun safety and take responsible actions that can prevent child gun deaths and injuries.
According to Education Week, there have been 29 school shootings this year that resulted in injuries or deaths. Across the country, there have been more than 300 mass shootings in 2022.
In New Hampshire, there is no state law prohibiting firearms in K-12 schools by community members; federal law provides more protections but guidance from the Attorney General's office leaves schools and communities in vulnerable situations. Governor Chris Sununu vetoed a gun free schools bill, along with bills to close background check loopholes and implement other common sense gun violence prevention policies.
WHAT: Back to School Gun Violence Prevention Assembly
WHEN: Saturday, September 10th at 10:00 AM
WHERE: Concord High School, 170 Warren St, Concord, NH 03301
WHO: Hosted by GunSense NH, a project of Granite State Progress; Moms Demand Action New Hampshire; and other members of the NH Gun Violence Prevention Coalition
###