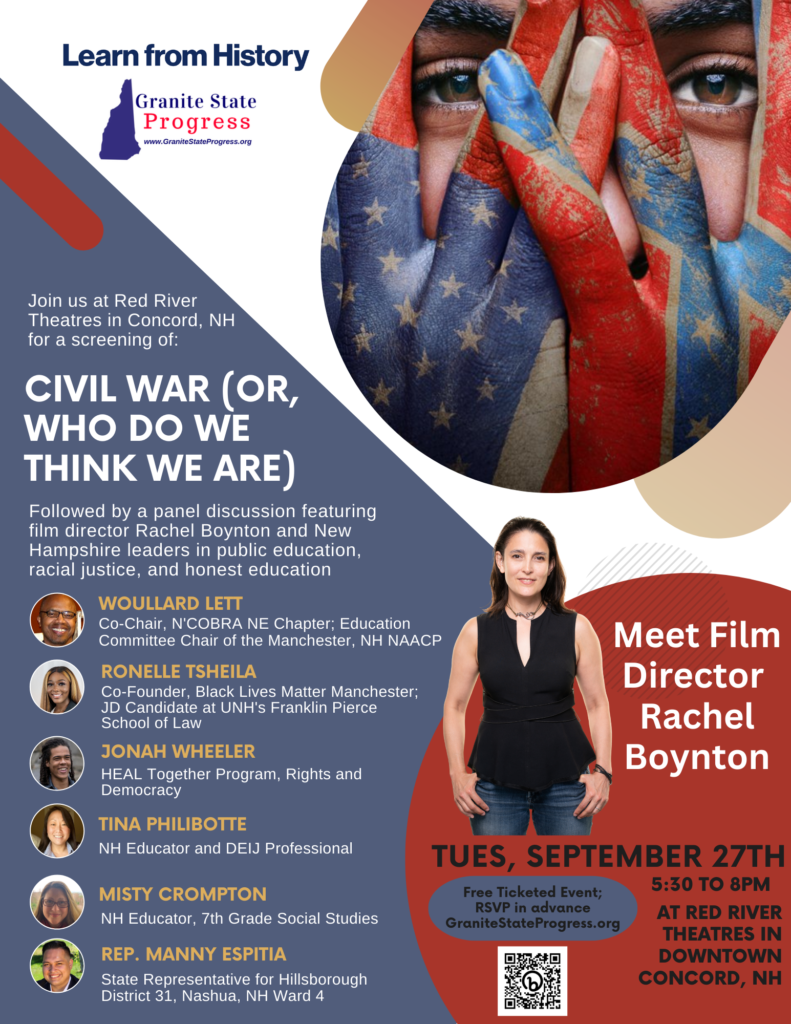 Film explores how Americans portray the story of the Civil War across the nation, and the ongoing impacts on society, public education, and racial justice
CONCORD, NH – With so much attention focused on what's being taught in New Hampshire classrooms –– and classrooms across the country –– Granite State Progress and Learn From History are hosting an evening of impactful discussion with the people closest to the issue: parents, educators, students, and racial justice leaders from across New Hampshire.
The evening will kick off with a screening of the documentary Civil War (Or, Who Do We Think We Are?) followed by a panel discussion with film director Rachel Boynton and New Hampshire leaders in public education, racial justice, and an honest education, including:
Woullard Lett: Co-Chair of N'Cobra New England Chapter and Chair of the NAACP of Manchester NH Education Committee
Ronelle Tshiela: Co-Founder, Black Lives Matter Manchester and JD Candidate at UNH Franklin Pierce School of Law
Jonah Wheeler: HEAL Together Program Coordinator, Rights and Democracy NH
Tina Philibotte: Educator and DEIJ Leader
Misty Crompton: 7th Grade Social Studies Teacher
State Rep. Manny Espitia: Nashua
"This is a powerful and reflective opportunity as we work together to protect our public schools and ensure our children can learn from the mistakes of the past in order to build a better future for all of us," said Sarah Robinson, Education Justice Campaign Director for Granite State Progress, who will moderate the panel.
Members of the public wishing to attend may register here.
Members of the media wishing to attend or schedule an interview should email zandra@granitestateprogress.org.
More about the documentary: Civil War (Or, Who Do We Think We Are?)
Directed by Emmy®-nominated filmmaker Rachel Boynton, the film provides a look at how Americans portray the story of their Civil War, revealing a nation haunted by an embittered past and the stories it refuses to tell. Filmed from the last year of Barack Obama's presidency through the present, it interweaves insightful scenes and touching interviews to paint a portrait of the American psyche and the deep roots of its turbulent times.
The Washington Post wrote: "In "Civil War: (Or, Who Do We Think We Are)," filmmaker Rachel Boynton takes viewers on a road trip through American public memory — and thus through ignorance, both accidental and intentional … Heritage, it turns out, is a more apt phrase than history for what many citizens are steeped in, especially in the South, where after the Civil War such organizations as the United Daughters of the Confederacy instituted curriculums that forbade teaching that the conflict was waged to preserve slavery. But mythmaking was just as prevalent in the North, where reconciliation was readily and routinely prioritized over racial justice." RogerEbert.com stated "Civil War (Or, Who Do We Think We Are)" is an account of a country that broke apart and never really got back together."
###