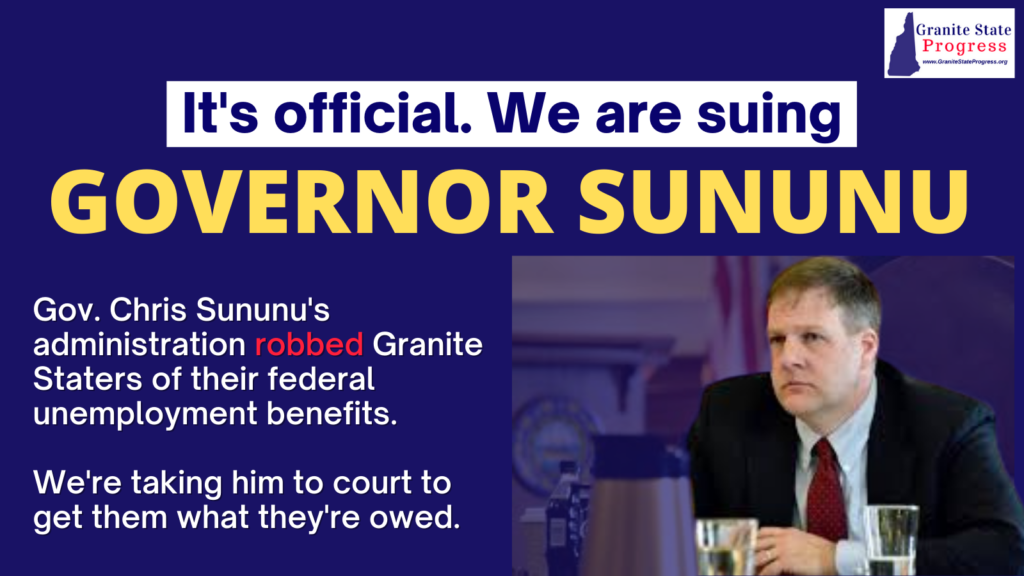 NASHUA, NH – The Hillsborough County South Superior Court held a preliminary hearing this afternoon on a lawsuit filed last week against Governor Chris Sununu's Administration for prematurely cutting off federal unemployment benefits available under the CARES Act. The suit is filed on behalf of four plaintiffs seeking a declaratory ruling and injunctive relief to reinstate the benefits, which could return thousands of dollars to Granite State families facing the loss of a job or income due to the COVID-19 public health pandemic. Statements on the hearing:
"We presented a strong case today and expect to hear from the court soon," said Mike Perez of Perez Law, attorney for the plaintiffs. "The plaintiffs are eager to have this issue resolved and to figure out the next steps for each of their families."
"We have been waiting for our day in court, and we are glad the judge heard the situations and experiences that have led us here today," said Stephanie McKay, moderator of the NH Unemployment During COVID-19 Facebook group of over 4,500 Granite Staters who experienced unemployment during COVID-19. "It was shocking to hear the State argue that we brought this emergency on ourselves, as many families who lost federal unemployment benefits are struggling to afford school supplies for their kids and pay basic bills for food and rent. But we are thankful for the opportunity to present our case and we hope that the outcome restores these benefits to thousands of impacted Granite Staters."
"The state's response makes it clear they are still leaning into the disproven theory that prematurely ending the federal unemployment benefits for struggling Granite State families would significantly impact unemployment rates in the state," said Zandra Rice Hawkins, executive director of Granite State Progress. "There are real barriers to workforce re-entry, including child care and other caregiving responsibilities, health issues, transportation, finding employment that matches your skills and training, and other such factors. The Sununu Administration could have focused on any of those instead of taking away people's benefits."
The initial press release reviewing the case can be found here.
A copy of the full legal petition and plaintiff stories can be found here.
###
Granite State Progress is a progressive advocacy organization that addresses issues of immediate state and local concern. Granite State Progress works as a communications hub for the progressive community to provide a strong, credible voice in advancing progressive solutions to critical community problems. Visit https://granitestateprogress.org/ to learn more.