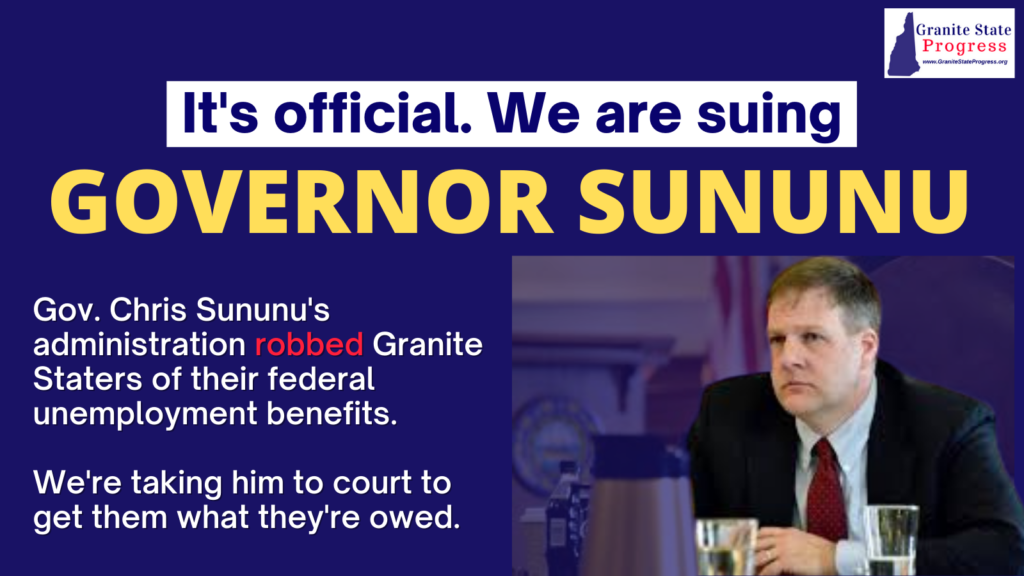 ***MEDIA ADVISORY FOR SEPTEMBER 3RD AT 2:00 PM***
NASHUA, NH – Today, September 3rd at 2:00 PM, the Hillsborough County South Superior Court will hold a preliminary hearing on a new lawsuit filed last week against Governor Chris Sununu's Administration for prematurely cutting off federal unemployment benefits available under the CARES Act. The suit is filed on behalf of four plaintiffs seeking a declaratory ruling and injunctive relief to reinstate the benefits, which could return thousands of dollars to Granite State families facing the loss of a job or income due to the COVID-19 public health pandemic.
The initial press release reviewing the case can be found here. A copy of the full legal petition and plaintiff stories can be found here.
WHAT: Preliminary Hearing on Lawsuit Filed Against Sununu Administration Over Premature Cut-Off of Federal Unemployment Assistance Benefit PUA
WHEN: Friday, September 3rd at 2:00 PM
WHERE: Virtual via Webex, Courtroom 4 in Hillsborough County Superior Court – South Nashua, NH
RSVP: Press should email tjackson@courts.state.nh.us for the virtual Webex link. The case number is 226-2021-CV-00423. More instructions available here.
###
Granite State Progress is a progressive advocacy organization that addresses issues of immediate state and local concern. Granite State Progress works as a communications hub for the progressive community to provide a strong, credible voice in advancing progressive solutions to critical community problems. Visit https://granitestateprogress.org/ to learn more.