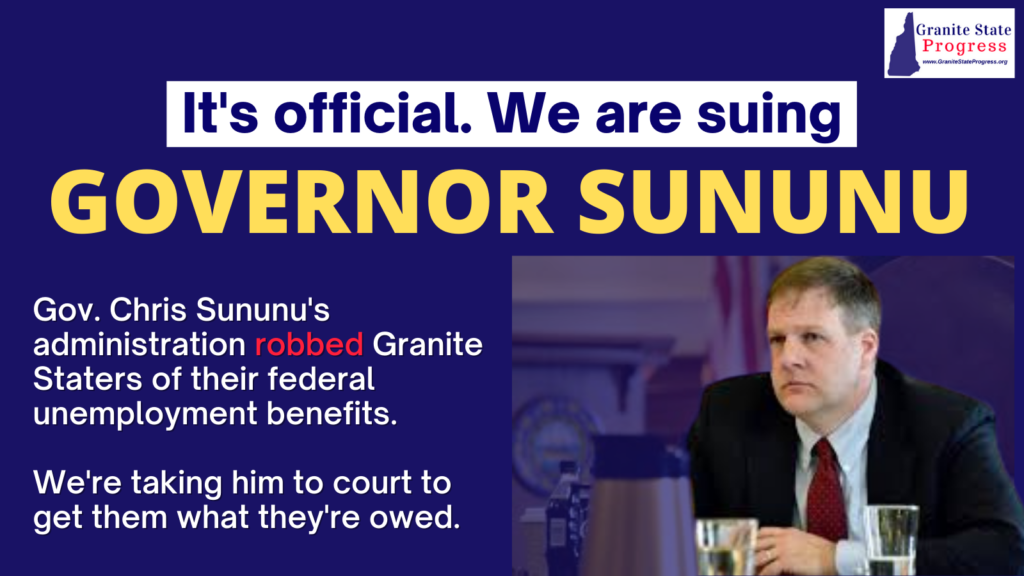 Federal and state law requires New Hampshire to extend benefits to est. 15,000 eligible Granite Staters facing loss of income due to COVID-19 pandemic; struggling Granite Staters deserve the federal benefits guaranteed to them
CONCORD, NH – Today a new lawsuit was filed in the Hillsborough County South Superior Court against Governor Chris Sununu's Administration for prematurely cutting off federal unemployment benefits available under the CARES Act. The suit is filed on behalf of four plaintiffs seeking a declaratory ruling and injunctive relief to reinstate the benefits.
Background on Lawsuit
The federal CARES package established several pandemic-related unemployment insurance programs which NH Employment Security prematurely terminated nearly 3 months before the programs were set to expire, impacting tens of thousands of Granite Staters struggling with the loss of income or jobs due to the COVID-19 pandemic. One program in particular, the Pandemic Unemployment Assistance (PUA), covers workers who are not eligible for regular unemployment insurance benefits, such as self-employed people, independent contractors, gig workers, and people who started a job too recently before becoming unemployed. The sudden and early termination of this program has harmed Granite State families, even though federal and state law specify the benefits must be made available and even though the program is fully funded by the federal government, including all administrative costs. An estimated 15,000 Granite Staters are impacted by the early termination of this program alone.
Impact on Granite Staters
The law clearly indicates that the federal benefit shall be made available to Granite Staters. Moreover, prematurely cutting the benefit has added more economic insecurity for families facing challenges due to COVID-19, fueling cuts to household spending while not leading to significant job gains. Experts say the real challenge is barriers to workforce re-entry such as child and caregiving responsibilities, health issues, transportation, and other factors.
Stephanie McKay, moderator of the NH Unemployment During COVID-19 Facebook group of over 4,500 Granite Staters who experienced unemployment during COVID-19 is filled with families who are trying to get back to work but face significant barriers: "We are hearing from parents who do not have adequate child care. Summer camp registrations that closed within a day of opening, so even if people could afford it, they couldn't get in. The self-employed have been hit particularly hard. They've spent years building a business that they are expected to just throw away. They are still working on rebuilding it, but they are not seeing the business they saw 18 months ago. We have medically compromised members who cannot go back to work in the same way, cannot go into an office setting, cannot go into the service industry. We have the career-oriented or very skilled members who are applying for jobs that less experienced individuals are getting because they have lower starting salaries. People are terrified to say anything because the unemployed are being villainized. We are seriously facing hardships. People are asking questions like how are we supposed to buy our children school supplies? We have one member, a mom of twins working three jobs right now, who still can't make ends meet, and can't get her child a backpack. PUA was carrying them. These benefits were a lifeline to help cover basic expenses for many families. Sununu cut it for effectively no reason."
"Cutting unemployment benefits didn't lead to significant job gains, it led to more financial uncertainty for already stressed Granite State families," said Zandra Rice Hawkins, executive director of Granite State Progress, which is helping with the lawsuit. "It makes absolutely no sense for Sununu to accept other COVID relief funds but tell families in economic crisis through no fault of their own, tough luck. There are real barriers to workforce reentry such as child care and other caregiving responsibilities, reasonable wages and hours, lack of transportation, and most importantly the ongoing public health crisis that puts too many workers and their families at risk without stronger public health guidelines. Governor Chris Sununu could do something to alleviate these issues for Granite Staters looking for work, but he instead chose to punish unemployed residents by cutting off their assistance with little to no action to address these barriers. Our Congressional delegation fought hard for these benefits for Granite Staters and they deserve to be able to access them."
Legal Process and Timeline
With this filing, New Hampshire becomes the 15th state to file a lawsuit against a GOP Governor for prematurely ending Pandemic Unemployment Assistance. In 4 states where suit has been filed, plaintiffs have been reinstated with their federally-guaranteed assistance and have been granted back-pay by the courts.
"Pandemic Unemployment Assistance was created to help people with careers and businesses that were interrupted because of the pandemic, and who otherwise would not be eligible for the typical unemployment benefits," said Mike Perez of Perez Law, who is representing the four plaintiffs. "It's one of a few pandemic related unemployment insurance programs. What's unique about this program, unlike the other types, is that PUA is a mandatory program. Neither state nor federal law gives NH Employment Security the authority to abandon PUA before it expires. The law says that the state shall participate. My clients are asking the court to reinstate the program, including retroactive benefits from June 19th. The US Department of Labor has publicly invited states like New Hampshire to reinstate the program, which is federally funded including all of the administrative costs. We are asking the court for preliminary injunctive relief as Granite Staters like my clients are suffering without it as they work to recover from the economic effects of the pandemic. We did ask New Hampshire Employment Security to reinstate PUA before filing suit, but we have not heard back from them in response to that request."
The four plaintiffs include Cassandra Caron of Manchester; Brandon Dean of Dover; Alison Petrowski of Manchester; and Aaron Shelton of Merrimack.
A copy of the full legal petition and plaintiff stories can be found here.
To contribute to the legal fund for the lawsuit, visit Granite State Progress COVID-19 Action Fund.
###
Granite State Progress is a progressive advocacy organization that addresses issues of immediate state and local concern. Granite State Progress works as a communications hub for the progressive community to provide a strong, credible voice in advancing progressive solutions to critical community problems. Visit https://granitestateprogress.org/ to learn more.