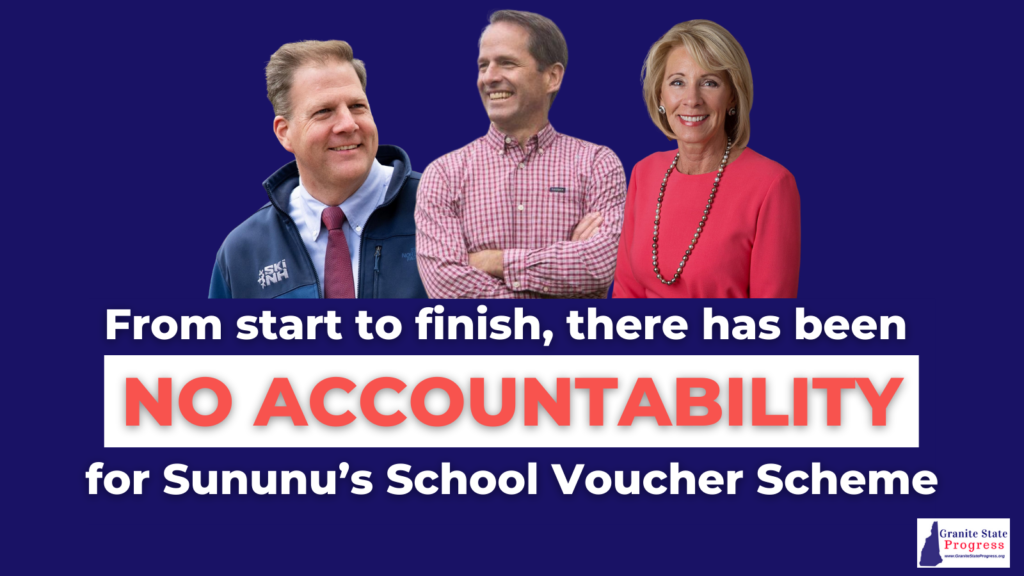 Sununu's Administration told lawmakers the school voucher program would have approximately 28 students in 2021; on WMUR Close Up this weekend Edelblut admitted he expects 1,000 to 1,500 students this year
CONCORD, NH – On WMUR Close Up on Sunday, Governor Chris Sununu's Education Commissioner Frank Edelblut admitted that the school voucher scheme passed into law by Sununu and his Republican majorities in the State House may cost the state an additional $6.77 million this year alone – or a 5,257% increase over what Sununu's administration told lawmakers to expect.
"Sununu's school voucher scheme is already expected to cost the state $69.7 million over three years in new state spending and disproportionately affect rural districts, districts that serve large proportions of low-income students, and districts that have lower capacity to raise revenue through taxes, often referred to as "property-poor" communities," said Megan Tuttle, President of NEA New Hampshire. "Now we learn that Governor Sununu and his Republican majorities in the State House will further hurt property taxpayers by having absolutely no checks and balances on how many of these scholarships are released. The first bill is not even due yet, and the Education Commissioner is telling us he expects to be $6.77 million dollars over budget."
"We need an immediate breakdown regarding how many school voucher applications are for new versus returning private, religious, and homeschool programs," said Zandra Rice Hawkins, executive director of Granite State Progress. "It's a question of whether the state or local communities will be footing the bill, and how much the state is subsidizing students who long ago opted out of public education. Sununu's school voucher scheme diverts a substantial amount of taxpayer dollars to privatized education, and communities that are already expecting to lose hundreds of thousands of dollars in state aid need to know if the property taxpayers in their community need to brace for even more hits from Sununu and State House Republicans, especially as the state budget they passed also leaves a more than $25 million hole in state education aid next year."
In reaction to the potential $6.77 million increase in costs for school vouchers, public education advocates in the state legislature are filing a bill in September to limit the number of school vouchers and stay within budget.
"All New Hampshire students need to be able to count on a strong, robust public education," said State Rep. David Luneau, a member of the House Education Committee. "Sununu's school voucher scheme takes money from our public schools and sends it to private, religious, and home schools, now we are being told that millions more than expected in taxpayer dollars will be siphoned off for these vouchers. We need to put a cap on program costs based on what was presented to the legislature by the commissioner, so that New Hampshire can plan appropriately. It would be fiscally irresponsible to let this program continue with no checks or balances on how many taxpayer dollars are being spent on it. The proposed legislation will set critical guard rails, and we should also explore other options for how to quickly reign in this program before the first check is cut next month. Right now New Hampshire has opened itself to incredible financial risk by having no guidelines here."
"No public school district would be able to come in this much over budget, and Sununu and Edelblut should hold school privatization programs to the same standard," Tuttle said. "From start to finish, there has been no accountability for Sununu's school voucher scheme."
Sununu's school voucher scheme is one of the most expansive in the country and lacks oversight. Rules around it have been rushed and rubberstamped by Sununu's Republican majorities in the State House and appointees to the NH Department of Education and State Board of Education.
The news about New Hampshire's actual number of school voucher applications comes the same week as former Trump Secretary of Education Betsy DeVos, a favorite of Sununu and Edelblut, visits the state to tout school privatization and diverting public taxpayer dollars to private, religious, and home schools.
###
Granite State Progress is a progressive advocacy organization that addresses issues of immediate state and local concern. Granite State Progress works as a communications hub for the progressive community to provide a strong, credible voice in advancing progressive solutions to critical community problems. Visit https://granitestateprogress.org/ to learn more.
————————————————–
Citation: Sununu Administration estimates for school voucher program, $129,000 estimate for FY 22 (page 9): http://www.gencourt.state.nh.us/LBA/Budget/operating_budgets/2022-2023/C_of_C/06-17-21_CofC_Surplus_Statement.pdf; Scholarships range in amounts but NH DOE materials indicate an average of $4,600. An increase to 1,500 school vouchers may cost NH taxpayers $6.77 Million – or 5,257% — more than planned.