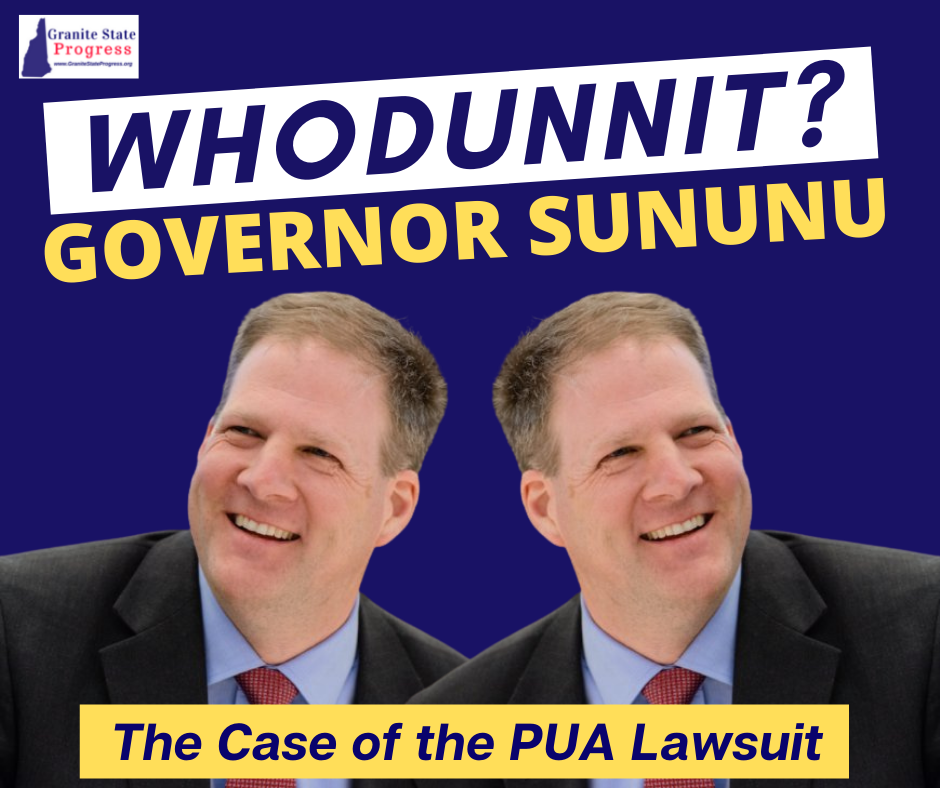 Attorney General's office pleads both that Sununu is/is not responsible
CONCORD, NH – Governor Chris Sununu's legal team is pointing the finger in both directions in dual lawsuits filed over Sununu's decision to prematurely cut off federal unemployment benefits for thousands of Granite State families.
In a motion to dismiss filed in the Hillsborough County South Superior Court, the Attorney General's office argues the four plaintiffs do not have standing because they sued New Hampshire Employment Security instead of Governor Chris Sununu.
In a separate motion filed in the Grafton Superior Court, the Attorney General's office argues the sole plaintiff does not have standing because they sued Governor Chris Sununu instead of New Hampshire Employment Security.
"The Sununu administration is talking out of both sides of its mouth, like usual," said Zandra Rice Hawkins, executive director of Granite State Progress, which is helping with the lawsuit. "This is baldly two-faced, and particularly cruel to make plaintiffs play whack-a-mole instead of Sununu just taking responsibility for the mess he created. But what else would we expect from an administration that prematurely cut off thousands of Granite State families from federal unemployment benefits, a program that comes at no cost to the State of New Hampshire and which is intended to help families better recover from COVID-19. We hope the courts and public see these two-faced filings for what they are, and that the court can provide relief for families facing ongoing economic hardship from the loss of these federal benefits."
"The state's motion to dismiss is just another slap in the face to those of us waiting on edge to hear whether or not we will be able to apply for the federal benefits that Congress passed for us," said Stephanie McKay, moderator of the NH Unemployment During COVID-19 Facebook group of over 4,500 Granite Staters who experienced unemployment during COVID-19. "None of us wanted to lose our jobs or income due to COVID-19. It could have happened to anyone, and we should not have to deal with the state's political games when they should just restore our benefits now."
The case filed in Hillsborough County South Superior Court had a preliminary hearing in early September and is waiting for the court's response. The Grafton Superior Court case has been in process since July. While the court case will proceed regardless, a communication from the federal Department of Labor makes it clear that states which prematurely ended benefits can reopen the federal unemployment benefits, at no cost to the state and with all administrative costs covered, by sending a letter to DOL no later than October 6th. New Hampshire stands to lose out on millions in federal dollars if action isn't taken soon. All the Sununu Administration has to do is act now instead of wasting taxpayer dollars opposing lawsuits to restore the benefits.
The initial press release reviewing the Hillsborough case can be found here.
A copy of the full Hillsborough legal petition and plaintiff stories can be found here.
A timeline of the Grafton case can be found here.
To contribute to the GSP COVID-19 Action Fund for important work like this, donate here.
###
Granite State Progress is a progressive advocacy organization that addresses issues of immediate state and local concern. Granite State Progress works as a communications hub for the progressive community to provide a strong, credible voice in advancing progressive solutions to critical community problems. Visit https://granitestateprogress.org/ to learn more.