Statement on House Education Committee Passage of HB 564, Statewide Gun Free Schools Bill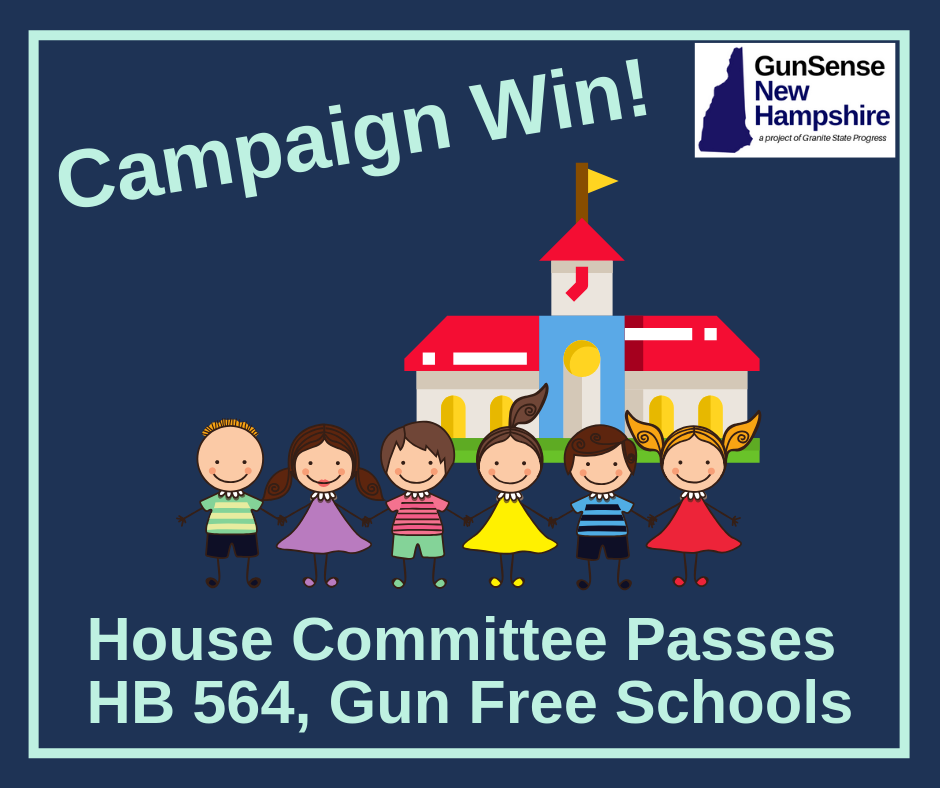 CONCORD, NH – Today the NH House Education Committee passed HB 564, statewide gun free schools, amended by a vote of 11-8. Statements from the prime sponsor and advocates:
"The presence of firearms in our schools disrupts learning environments and takes school personnel and resources away from their primary job of teaching our children," said State Representative Mary Heath, prime sponsor of HB 564. "The majority of states, 47 states of them and the District of Columbia, prohibit carrying or possessing a firearm on K-12 school property or events. Only Hawaii, New Hampshire, and Wyoming do not. New Hampshire has never experienced a multi-student shooting event and while this bill cannot promise that it will prevent such a tragedy, it is a step closer to keeping New Hampshire children safe from harm."
"We applaud the committee for moving forward on this common sense bill," said Zandra Rice Hawkins, director of GunSense NH, a project of Granite State Progress. "Guns do not belong in our elementary, middle, or high schools but right now local school districts and police departments face real challenges in how to appropriately deal with situations in light of major gaps in state law. We need to make sure our local school districts and police departments have the tools they need to deter a dangerous situation before it becomes a deadly one."
"I applaud the outcome of the committee vote to keep guns out of schools," said Ruby Carr, a junior at Coe-Brown Northwood Academy and a student leader on gun violence prevention. "We hope the full legislature will also pass statewide gun free schools legislation this session to ensure safe learning environments for students like myself."
About HB 564: The federal Gun Free Schools Act prohibits students from bringing firearms into schools, and the Gun Free Schools Zone Act prohibits all other persons from bringing firearms within 1,000 feet of school property unless they are licensed by the state to carry a firearm. While federal law establishes gun free school zones with qualifications, gaps in state law and a recent statement from the Attorney General's office has left school districts and police departments in murky water on enforcement and jeopardizes safe spaces for our children to learn and grow. HB 564 seeks to clarify that our elementary, middle, and high schools are gun free.
###
GunSense NH, a project of Granite State Progress, works to protect and advance common sense public safety laws. The program convenes the NH Gun Violence Prevention Coalition, members include gun violence prevention advocates, moms, medical professionals, gun owners, veterans, law enforcement, elected officials, school administrators, educators, students, and faith leaders, and organizations representing various constituencies.