Gun Violence Prevention Advocates Applaud NH House Vote to Keep Guns Out of State House Chambers and Gallery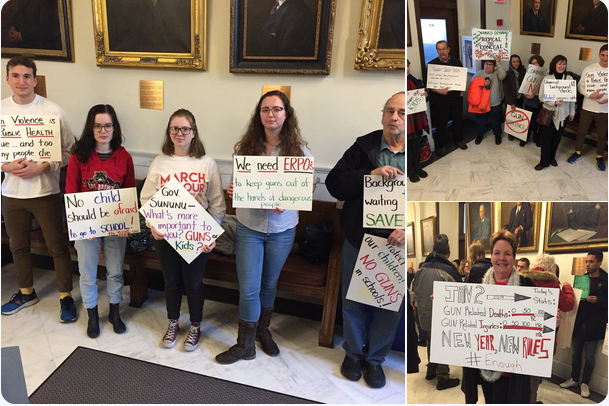 Next up: time to close background check loopholes, create a waiting period between the purchase and delivery of a firearm, keep guns out of schools, and pass an extreme risk protection order
Concord, NH – Members of the NH Gun Violence Prevention Coalition applaud the NH House of Representatives vote today to keep guns out of the House chamber, gallery, and anterooms. The amendment to House Rule #63 passed 220-163.
"I applaud the outcome of today's vote to keep guns out of the State House," said Ruby Carr, a junior at Coe-Brown High School and a student leader on gun violence prevention. "Those who voted in support of this amendment voted for the safety of themselves and fellow legislators, as well as anyone who wishes to visit the State House. We hope the legislature will also pass statewide gun free schools legislation this session to ensure safe learning environments for students like myself."
"Constituents and school children have a right to feel safe when they visit the State House," said Tracy Hahn-Burkett, a mother and Bow resident. "This vote represents the opinions of the majority of constituents and responsible gun owners in our community."
"This vote is a step in the right direction," said Zandra Rice Hawkins, executive director of Granite State Progress and convener of the NH Gun Violence Prevention Coalition. "Now the legislature needs to pass a package of common sense gun violence prevention laws, including closing background check loopholes, creating a waiting period between the purchase and delivery of a firearm, keeping guns out of our elementary, middle, and high schools, and passing the popular bipartisan extreme risk protection order which is improving public safety in states across the nation."
###
The NH Gun Violence Prevention Coalition has worked together for the last 5 years to protect and advance common sense public safety laws. Members include gun violence prevention advocates, moms, medical professionals, gun owners, veterans, law enforcement, elected officials, school administrators, educators, students, and faith leaders, and organizations representing various constituencies. The coalition is convened by GunSense NH, a project of Granite State Progress.