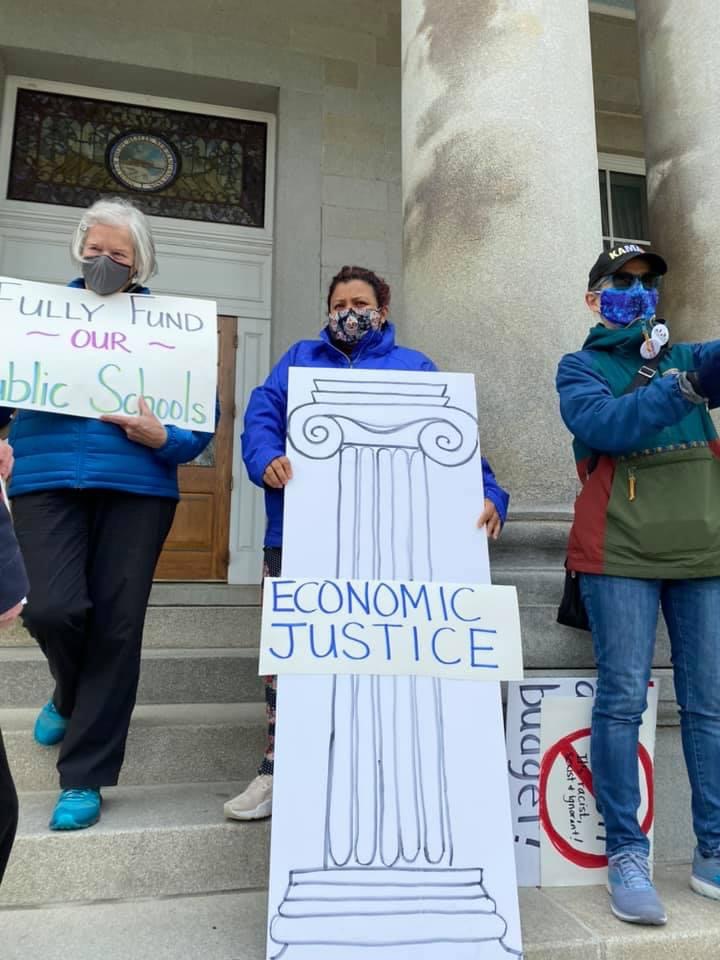 Working together, advocates for economic, racial, disability, education, and housing justice uplift united vision for a strong, healthy, and equitable New Hampshire
CONCORD, NH – Today the Coalition for a New Hampshire People's Budget demanded that the Senate deliver a better budget that invests in our people and our communities, with actions at the State House and strong public participation in the HB 1 and HB 2 Senate Finance committee hearings.
The Coalition's efforts center around 8 pillars of justice that must be addressed in the state budget: Education, Health Care, Disability Rights, Housing, Racial Justice (including removing the White Supremacy Protection Act), Fair Taxation, Public Services and Economic Justice, as well as transparency in the state budget process. The coalition delivered their demands to state leaders and organized widespread participation in the Senate public hearing.
Maggie Fogarty, Director, American Friends Service Committee: "We can invest in our critical public infrastructure and our families by fairly taxing the wealthy and corporations which operate in New Hampshire. Instead this budget includes devastating cuts that will further cause harm to the families and communities who can least afford it. We will continue to call for a People's Budget that adequately meets our community's needs."
Asma Elhuni, Movement Politics Director, Rights and Democracy NH: "In this time when so many are divided, we are asking Granite Staters to join together to show we are greater than fear. In order for everyone in our state to have the freedom to succeed, we must be honest and have difficult conversations – the very kind that the language of HB 544 wants to prevent us from having. The truth is we cannot build a better future if we cannot talk about the problems. From birth to death, and everything in-between – nearly every aspect of life in America is impacted by systemic racism and oppression. To achieve a true multiracial democracy where everyone can thrive, we must be able to name the systemic ills that are taking a disproportionate toll on our communities."
Mary Wilke of Kent Street Coalition: "The budget turns its back on the 90% of our students who attend public schools, and it worsens the inequities that make zip codes a determinant of educational opportunity in New Hampshire. It leaves school districts facing the loss, next year, of $90 million in state aid – much of which had been targeted specifically to our neediest communities. As if that weren't enough, Republican leaders want to bury in the budget an unpopular and deeply flawed school voucher bill that would withdraw millions more in state support from public schools, sending the money instead to private and home schools that are not accountable to public taxpayers. In this budget, Republican "tax cutters" show their true colors; they are downshifting tens of millions of dollars in education costs to our already overburdened local property taxpayers, while leaving public school students with ever-diminishing opportunity. It's time to stop passing the buck."
Deborah Opramolla, Chair of the New Hampshire Poor People's Campaign. "Disability Justice requires everyone to realize having a disability is a normal part of life. What it is not is being embarrassed or ashamed of family members that experience a disability. What is not normal is to become silent. The People's Budget demands investment in services such as fully funding the wait list for Developmental Disability services. This must be an investment that not only takes individuals off the waitlist but provides them all the services an individual needs to be partake in the Beloved Community. Silencing our ability to have discussions on our culture and training of our workforce sends the message we are not welcomed in New Hampshire."
Zandra Rice Hawkins, Executive Director of Granite State Progress: "Governor Chris Sununu and his Republican majorities in the State House continue to hold New Hampshire back, pursuing a reckless agenda that puts our families and communities at risk. The budget is filled with corporate tax give-aways and downshifting at the expense of a strong, healthy, and equitable New Hampshire. Our country has a real opportunity right now to address systemic barriers that disproportionately harm black and brown people, low-income Granite Staters, and working families, but the state budget to date doubles down on the same failed policies that got us here in the first place – this time with an extra dose of racist, extremist behavior. We cannot afford the devastating "back of the budget" cuts to health and human services that will harm critical services and jeopardize federal funding, and it's telling that Republican leaders are hiding extreme agenda items in the state budget since they know they cannot get them passed through the normal legislative process. We demand a budget that invests in our people, our communities, and our environment."
The Coalition for a People's Budget includes more than 20+ organizations and Granite Staters all across the state, including statewide organizations the NH Poor People's Campaign, NH Voices of Faith, the American Friends Service Committee NH Program, Granite State Organizing Project, Rights & Democracy NH, Granite State Progress, 350nh.org, Kent Street Coalition, Unitarian Universalist Action NH, NH Council of Churches, NH Youth Movement, The Episcopal Church of New Hampshire, Change for Concord, and NH Conference United Church of Christ Economic Justice Mission Group, among other organizations.
###
Granite State Progress is a progressive advocacy organization that addresses issues of immediate state and local concern. Granite State Progress works as a communications hub for the progressive community to provide a strong, credible voice in advancing progressive solutions to critical community problems. Visit https://granitestateprogress.org/ to learn more.