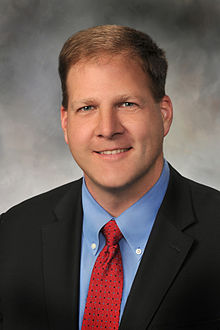 Education Commissioner Frank Edelblut is keynote speaker at "Right of Center" political strategy meeting in September; public has a right to know if Edelblut has been participating all along – and whether any other members of Governor Sununu's leadership team are participating in partisan politics in their official capacities
Concord, NH – Governor Chris Sununu's handpicked Education Commissioner Frank Edelblut is still using his Commissioner position to engage in partisan politics, this time as the scheduled keynote speaker for the September 13th Right of Center political strategy meeting where "Brainstorming how to further the Right's agenda within the state is at the forefront of conversations."
The bi-weekly meetings are organized by former House Speaker Bill O'Brien and the Hon. Stephen Stepanek under the banner of Liberty Tree Consulting Services, and hosted at the Koch-funded Americans for Prosperity office. According to the hosts, the meetings are "for elected officials and political activists, centering around how to improve communication in NH through a center right agenda" and "create 'Right of Center' political progress" in New Hampshire. Commissioner Edelblut is not an elected official and New Hampshire commissioners typically don't engage in partisan politics in their official roles – although Commissioner Edelblut has frequently done so with Governor Chris Sununu's blessing.
See meeting announcement advertising Education Commissioner Frank Edelblut as keynote speaker
https://www.eventbrite.com/e/right-of-center-meeting-september-13-2017-tickets-36558016010?aff=erellivmlt
Statement from Granite State Progress Executive Director Zandra Rice Hawkins:
"It's high time for Governor Sununu to tell his handpicked Education Commissioner Frank Edelblut to stop using his official position for partisan political purposes. Commissioner Edelblut's participation in political strategy meetings is inappropriate, and his actions in office demonstrate how far he will go to enact his far-right political ideology. Commissioner Edelblut continues to put his personal politics over the best interests of Granite State students and families, and Governor Sununu is endorsing his behavior by not putting an immediate stop to it."
Just months into his position as Education Commissioner, Edelblut has made waves for trying to re-open the Next Generation Science Standards that were just approved last year; he initially refused to come clean about making a donation to a school privatization lawsuit against the Department he now leads; he forwarded an internal education department job posting to one of his Free State Project friends and then sent that individual's resume to the HR director (that individual is also on the Board of an off-shoot group literally organizing for New Hampshire to secede from the rest of the country); he is using his position to lobby for SB 193, school vouchers/privatization; and he tried to usurp the State Board of Education's rule-making responsibilities by injecting himself between the State Board and JLCAR – all without informing the State Board.
"While Education Commissioner Edelblut is the keynote speaker for the upcoming meeting, it is unclear whether he has been participating in the bi-weekly meetings all along or if any other members of Governor Sununu's leadership team are participating in their official capacities as well," Rice Hawkins said. "Administrative Services Commissioner Charlie Arlinghaus ran similar political strategy meetings himself in the past before his current post. The Governor and Executive Council should check which Commissioners are abusing taxpayer time and money by engaging in partisan politics in their official capacities. Governor Sununu has a responsibility to keep his leadership team focused on addressing the real issues facing Granite Staters, instead of attending meetings designed to advance a particular political ideology."
###
Granite State Progress is a progressive advocacy organization that addresses issues of immediate state and local concern. Granite State Progress works as a communications hub for the progressive community to provide a strong, credible voice in advancing progressive solutions to critical community problems.