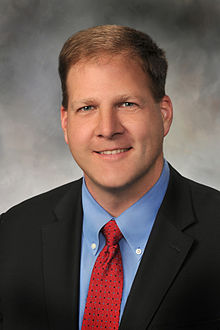 Following lead of Governor Chris Sununu, progressive advocacy group will meet with 100 businesses over the next 100 days then release a report supporting pet projects with no credible evidence to back it up
Concord, NH – Granite State Progress will follow in the footsteps of New Hampshire Governor Chris Sununu (R) by meeting with 100 businesses over the next 100 days and releasing a report in support of pet projects with no credible evidence to back it up.
"Like President Trump, Governor Sununu believes that you don't need any actual details or evidence to back up your claims," said Zandra Rice Hawkins, executive director of Granite State Progress. "Sununu won't name a single company that he supposedly met with, yet he's using those unconfirmed meetings to claim business support for all of his pet projects like school vouchers and so-called right to work. Isn't that convenient? Governor Sununu wants people to take him at his word without offering any evidence or credible sources to verify his big claims. Sununu's press conference should be called out for what it is, a dog and pony show with no real legs to stand on."
A snapshot of just a few of the rampant inconsistencies in Sununu's press conference:
Claims to have met with over 100 businesses. Will not name a single business.
Claims he is not allowed to name businesses. When pressed by media outlets, admits it's not a legal issue (tax releases, anyone?) but states it is about confidentiality for businesses that might be considering relocating or expanding to New Hampshire.
Claims businesses that "could single-handedly turn around a town's economic situation" won't consider New Hampshire unless it is a right-to-work state. Can't name a single business that told him this, even though he's been making the claim for months. Refused to answer Granite State Progress letter asking for names of businesses (open request for 3 months and counting, no response at all). Contradicts past statements from DOL and DRED commissioners stating no business had ever asked about so-called right to work.
Contradicts own claim that he cannot release names of businesses. If right to work was an issue "raised several times" and these businesses "refuse to even consider moving to a non-right-to-work state like New Hampshire" as stated in Governor Sununu's own report, there is absolutely no reason not to name those businesses. There is no confidentiality protection argument if they are not considering moving to New Hampshire anyway. Unless, of course, the secrecy is actually to protect Governor Sununu's own overstated claims.
Claims he met one-on-one with 20 or 30 Canadian businesses then later goes on to state he hosted a webinar with twenty Canadian businesses. Which is it – did Sununu talk with 40 or 50 Canadian businesses total, or did he lie about meeting with the businesses one on one?
Governor Sununu remarks: "Twenty-three different states, 7 different countries, including what I think is an incredibly successful trip up to Quebec with the folks at DRED, visiting with twenty, thirty businesses up there and again, talking to them one-on-one about the advantages that New Hampshire has to offer … You gotta get out there, you gotta make these one-on-one interfaces."
Governor Sununu during Q&A: "We did a webinar. Yup, we did a webinar with about 20 businesses up in, up in Canada, we did a live webinar with myself and the DRED folks."
Claims he is the first Governor to visit in Canada in last 7 or 8 years. Governor Sununu: "Canada is our largest trading partner. No Governor had visited Canada in, I think, seven or eight years, something like that. Right?" Wrong. This is just an odd claim to begin with – and easily debunked by a simple online search. Here is Governor Hassan at meetings in Canada in 2013 and 2015. And Governor Lynch in 2011, when he visited Québec with George Bald, New Hampshire's Department of Resources and Economic Development Commissioner, to discuss trade and issues around aerospace, green energy and information technology, as well as "tried to convince Quebec companies to expand in New Hampshire." The details of the trip include the names of some of the businesses Governor Lynch met with.
Statement from Granite State Progress Executive Director Zandra Rice Hawkins:
"Governor Sununu is misleading the people of New Hampshire with this unverifiable business tour. Sununu could have quietly met with businesses to solicit relocation to New Hampshire, or he could have openly hosted business roundtables to hear what is on the minds of industry leaders. He chose this path because it allows him to see his face on the front page while avoiding scrutiny of his claims. This is the only reason to host this press conference. It is wrong of Governor Sununu to try to build his own name brand and claim business support for his pet projects while expecting the rest of us to simply take him at his word."
###
Granite State Progress is a progressive advocacy organization that addresses issues of immediate state and local concern. Granite State Progress works as a communications hub for the progressive community to provide a strong, credible voice in advancing progressive solutions to critical community problems.