Executive Councilors Prescott, Kenney, and Wheeler Rubberstamp Governor Sununu's Education Commissioner
Statement on Executive Councilors Prescott, Kenney, and Wheeler Rubberstamping Governor Sununu's Education Commissioner
Executive Council Votes to Confirm Frank Edelblut Less Than 24 Hours After NH State Board of Education Releases Letter of No Confidence; Councilors Prescott, Kenney Publicly Acknowledge Vote Goes Against Constituents
Concord, NH – The NH Executive Council voted along party lines 3-2 today to confirm Frank Edelblut for NH Education Commissioner. The vote came less than 24 hours after the State Board of Education released a letter of no confidence in Governor Sununu's nominee, citing gaps in qualifications and overwhelming concern from "a broad and extensive cross-section of the public" that "virtually all have expressed concerns about the appointment."
Statement from Granite State Progress Executive Director Zandra Rice Hawkins: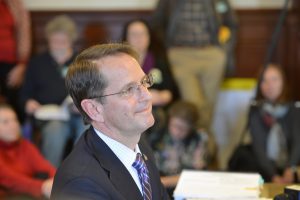 "We are disappointed that Executive Councilors Russ Prescott, Joe Kenney, and David Wheeler decided to rubber stamp Governor Sununu's blatantly unqualified nominee despite widespread opposition from the State Board of Education and their constituents. Councilors Kenney and Prescott specifically mentioned that their constituents were overwhelming in opposition to Frank Edelblut before going on to say that they would vote for him anyway. Community members should be on notice that Prescott and Kenney fully acknowledged that they were voting against their constituents on this nomination."
"We thank Councilors Andru Volinsky and Chris Pappas for standing with the majority of constituents and experts who voiced concern over Governor Sununu's unqualified nominee."
See the video of Executive Councilor Prescott stating he will vote against constituents.
See the video of Executive Councilor Kenny stating he will vote against constituents.
###
Granite State Progress is a progressive advocacy organization that addresses issues of immediate state and local concern. Granite State Progress works as a communications hub for the progressive community to provide a strong, credible voice in advancing progressive solutions to critical community problems.