BREAKING: NH State Board of Education Releases Letter of No Confidence in Governor Sununu's Education Commissioner Nominee
BREAKING: NH State Board of Education Releases Letter of No Confidence in Governor Sununu's Education Commissioner Nominee
Letter cites gaps in qualifications and overwhelming concern from "a broad and extensive cross-section of the public" that "virtually all have expressed concerns about the appointment"
Concord, NH – The NH State Board of Education released a letter of no confidence in Governor Sununu's Education Commissioner nominee. The letter was sent to the Governor and Executive Council yesterday afternoon after the Governor's late consultation with the Board; the Executive Council is scheduled to vote on the nomination this morning.
Statement from Granite State Progress Executive Director Zandra Rice Hawkins: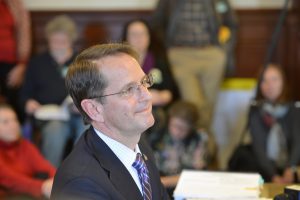 "The State Board of Education has a statutory responsibility to ensure the Department of Education is staffed with qualified individuals and that all children in our state receive an adequate education. We applaud the members for doing their due diligence on the nominee. We strongly urge the Executive Council to vote down this nomination and urge the Governor to find a candidate better suited to the position."
Read the letter: State Board of Education Consultation Letter to Governor Sununu
###
Granite State Progress is a progressive advocacy organization that addresses issues of immediate state and local concern. Granite State Progress works as a communications hub for the progressive community to provide a strong, credible voice in advancing progressive solutions to critical community problems.